CORNWELL'S DINNER THEATRE
The 2023 Season Has Arrived!
Click on any of the graphics to see the full performance schedule. 
Book and Lyrics by Tom Jones,
Music by Harvey Schmidt
March 16 – April 15
This heartwarming musical about the challenges and rewards of love introduces us to Michael and Agnes, a young couple moving into their new bedroom on their wedding night. Through wedding jitters, raising a family, growing apart and coming back again, we join them on the journey of their lives, across 50 years of marriage, to the moment when they leave their bedroom to the next newlyweds.
By Michael Parker and Susan Parker
May 4 – June 10
Mrs. Stancliffe's guests return year after year to her B&B, and her neighbor, the elderly, silver-tongued Bud "The Stud" Davis, believes they come to spend time with him. Her would-be suitor is a retired chemist who has developed a pill to increase the libido of menopausal women. When the women mix up Bud's Viagra pills with the "Venusia," we discover that it has a strange effect on men: it gives them all the symptoms of menopausal women, complete with hot flashes, mood swings, and irritability!
Music and Lyrics by David Nehls,
Book by Betsy Kelso
June 29 – August 5
*Contains explicit language and subject matter. A sassy, trashy, and flashy musical comedy full of laughs, love, and lawn flamingoes! There's a new tenant at Armadillo Acres—and she's wreaking havoc all over Florida's most exclusive trailer park. When Pippi, the stripper on the run, comes between the Dr. Phil–loving, agoraphobic Jeannie and her tollbooth collector husband—the storms begin to brew. 
Adapted by Katie Mitchell
for the National Theatre of Great Britain
July 16 – August 2
(Sundays and Wednesdays)
Our popular children's theatre series returns with this wildly creative adaptation of Dr. Seuss's childhood classic about boredom, mischief and a very naughty cat. Performed by our professional cast of actors, this one-hour play is an entertaining afternoon for the whole family and a perfect way to introduce the younger generation to the wonders of live theatre!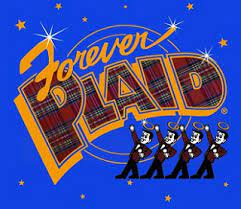 Written by Stuart Ross,
Musical Arrangements by James Raitt
August 31 – October 14
On the way to their first big gig, tragedy strikes Forever Plaid, pop quartet specializing in harmonies and pitch-perfect melodies. Forever Plaid begins when the guys are given the chance to perform from the afterlife. This smash hit musical is a nostalgic homage to the music of the '50s and includes hits such as "Three Coins in the Fountain" and "Love is a Many-Splendored Thing."
Conceived and Written by
Dexter Brigham and Jennifer Hopkins
November 2 – December 17
Cornwell's kicks off the holidays in style with a no-holds-barred celebration that features a cast of sequin-clad performers shaking their tail feathers and turning up the heat as the snow starts to fall on the farm. Including all your holiday favorites, and setting a new bar for toe-tapping Christmas cheer, this musical revue is the perfect recipe for serving up the holidays on silver platter!