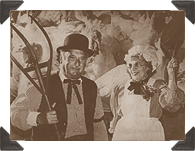 Our Story Begins in 1968 with two generations of Cornwell's opening their door to the public on the family farm, making all the recipes from the family cookbook and making the fresh everyday. The Turkeys are the best part of the story: Grandpa and son Alan raised turkeys with a completely unique feed plan, ensuring a better and richer tasting bird. forty nine years later, our traditions continue. we are proud to have our third and fourth generations operating Turkeyville with the same plan as Grandpa had in the beginning: keep it simple and fresh and people will always return.
Today we are a prime Midwest destination, an all-turkey restaurant with innovative menu items along with traditional favorites. Our Ice Cream Parlour is an old-fashioned soda fountain with house-made ice cream, so it's always the freshest it can be.
The Country Junction Gift Shop is 23,000 sq. feet of a shopper's delight, featuring a bakery and deli, gifts, souvenirs, holiday decor, and so much more. Turkeyville's newest attraction is our RV Camp Resort, nestled between the cornfield and the woods, a delightful country experience for the whole family. Need even more entertainment? Enjoy our professional Broadway-style Dinner Theatre's great musical and comedy shows, plus hilarious murder mysteries, while you dine on a delicious traditional turkey dinner.
Top all of that off with special events throughout the year, and you have a one-of-a-kind, country fun experience.